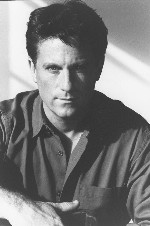 Originally from New Jersey, STEVEN THOMAS JOSEPH MONARQUE was born on 2 April 1959 and has been in the acting business for over 20 years. After completing his schooling in the late 1970s, the highly motiviated actor-to-be moved to New York City and aggressively pursued his craft under the guidance of well-known coaches such as Wynn Handman, Geraldine Page, and later with Harry Mastrogeorge. Early television roles included the Emmy award-winning "Stoned" and "Sometimes I Don't Like My Mother" for ABC in 1981 and "Old Enough To Care" in 1982. In addition, Steve has completed a series of commercials for many well-known American corporations such as Coca Cola, Ford Motor Company, and U.S. Army GI Bill, to name a few. Small parts in movies for "SIXTEEN CANDLES" in 1984 and the made-for-tv movie "The Day The Senior Class Got Married", as well as appearing in the music video for Chicago's "25 or 6 to 4" in 1985, led to the starring role as competitive surfer, Reef Yorpin, in the 1988 romantic comedy "UNDER THE BOARDWALK". Hard work and perseverance payed off for the Steve who was called back six times to test for this role and to perfect his character. Furthermore, Steve's resume also includes an impressive list of stage credits with early off-off Broadway roles in "Hurrah For The Bridge" and "Raggedy Ann Says Hello" to his 1989 role in "Falling Straight". In 1997, Steve was cast in the live theatre production of the Sam Sheperd drama "True West" and in 1998 he was cast as Lieutenant Maryk in the stage adaptation of the Herman Wouk novel "The Caine Mutiny Court-Martial". That same year, he landed a part in the independently-produced film "CONFESSIONS OF A SEXIST PIG", written and directed by Sandy Tung, which earned several awards at international film festivals in the United States and in Europe.
A talented musician who writes and performs his own musical compositions , Steve formed a fifties' style rock band called "Johnny Ruelle and The Reliables" along with brothers Rick, Dave, and Bill in his early years. The band performed throughout the New York City area for select nightclubs and private social gatherings. The group also travelled to Toronto and appeared for the entire three hundred cast and crew of "War of the Worlds" and "Friday the 13th: The Series". In 1996, Steve expanded his musical talents and worked as first assistant director for the independently-produced musical documentary "SPREAD THE WORD: THE PERSUASIONS SING A CAPPELLA".
Despite his busy schedule, Steve volunteers his time on the weekends working with groups of disadvantaged male youth, aged 13 to 17, at a local ministry. His outstanding leadership skills have been invaluable in coaching adolescents to build character and set goals, thereby leading to improvements in perceptions of self-efficacy. Music plays a major role in bringing together the young boys and the vicarious experiences produced through the mass have a positive impact on everyone involved.
In his spare time, Steve plays golf and enjoys camping and fishing. He reads a lot on the Civil War. He composes and plays music with his band which consists of his brothers and a few select musicians. His musical taste ranges from Elvis to the Beatles to Pink Floyd to Alice Cooper, and more.
Although Steve travels regularly between New York City and Los Angeles, he resides in California.
---

JUNE 2007: Check out the June 25, 2007 issue of the weekly Canadian newsmagazine Macleans Magazine. On the inside cover you will see Steve in a print ad for financial brokerage firm Edward Jones. We will post the ad shortly.
---
FEBRUARY 2006: Steve's play now titled "This Life" is currently in workshop in New York City. In the mean time, please check out the official music website: Revelation.
---
March 2003: Steve has joined the cast of the play MISS WRITE, directed by David G. Robinson, currently held at The Secret Rose Theatre in North Hollywood. Performances run Friday & Saturday evenings at 8 pm (PT) and Sundays at 7 pm from March 7 to April 12, 2003. Theatre critics including Neal Weaver for the LA Weekly have rated the show a "must see". For a sample of some online reviews, click on the following links below:
The LA Weekly
Review Plays Online
---
FEBRUARY 2002: Steve just finished starring in a six-week run of his musical stage production of his original screenplay titled "That's Life" which was held at THE EGYPTIAN ARENA in Hollywood, California.
"That's Life" (alternate title "Mona's Method") tells the story of a young musician named JOHN BUCK who returns to his hometown after failing his life's dreams. Here he encounters old friends, rivals, and his true love, BRENDA. John is a recovering alcoholic and attempts suicide, but after meeting his Guardian Angel through a Karaoke machine, he has a renewed positive outlook on life. John's life heads in a new direction, but his destiny takes an unexpected turn for the worse.
CLICK HERE for a full cast list and review of the play.
CLICK HERE for photos and scans of the program guide.
---
| Main Page | Biography | Filmography | Friday The 13th: The Series |
| Chatting With Steve | Photo Gallery | Links |