The Caine Mutiny Court-Martial
The Tamarind Theatre
5919 Franklin Avenue
Hollywood, CA
November 9 to December 9, 1998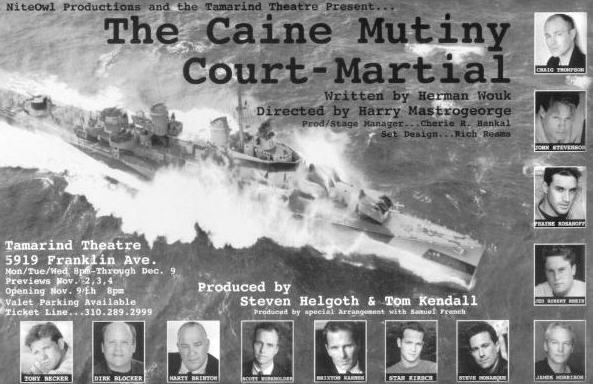 ---

CHARACTER
Lieutenant Steve Maryk
---
Presented by NITE OWL PRODUCTIONS and directed by acclaimed L.A. director, HARRY MASTROGEORGE, the stage adaptation of Herman Wouk's Pulitzer Prize winning novel THE CAINE MUTINY COURT-MARTIAL tells the story of a young lieutenant Steve Maryk, who brings charges of mutiny against the Lieutenant Commander Philip Francis Queeg (James Morrison) for his inability to maintain emotional and hence professional control of his Navy Ship during a typhoon. Specifically, Queeg's behaviour became increasingly unpredictable, oscillating between extremes, over several months leading up to the event in question.
The setting is a courtroom where Maryk's attorney Lieutenant Barney Greenwald (Scott Burkholder) leads the offence to convince the jury that Queeg's behaviour and consequent actions and inaction were clearly irrational and therefore substantiates Maryk's claim and course of action in usurping Queeg's authority by acting as First Officer.
Supported by a stellar cast, the play is a thought-provoking courtroom drama filled with gripping tension with Steve Monarque and Scott Burkholder portraying members of the prosecution team and James Morrison on the defence, depicting his character as a desperate yet highly efficacious man on trial, deteriorating before everyone's eyes, but remains proud and makes every concerted effort to maintain his dignity in light of the revelations presented.
Other highlights of the play include a wonderful production design and set along with authentic costuming and genuine enactment of courtroom protocol and procedures. Steve Monarque, cast as the young officer on trial and key witness for the prosecution, has the appearance and demeanour which the role demands. Furthermore, James Morrison's performance as Queeg is described by theatre critics as "mesmerizing ... and almost painful to watch ..." (Drama Logue 1998).
In Steve's own words, "The Caine was a long process .. the experience on a creative level was rewarding" (June 2000).