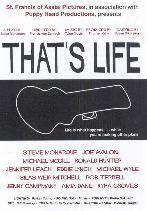 It's not very often that theatre goers are treated to a screenplay that is both original in its writing and its songs. And if that's what you're looking for, well, look no further. A musical play titled "That's Life" will fill you with two hours of solid entertainment, combining the genres of drama, romance, comedy with a touch of supernatural intrigue.
With its premiere on February 22, 2002 in Hollywood, California, "That's Life" is a creative and imaginative story about a musician named John Buck who returns to his northern New Jersey hometown in 1982 after living the life of a struggling artist in Tinseltown for a decade without much success. John's quest to attain rock'n roll stardom has been met with professional and personal disappointment. Instead of becoming more upwardly mobile, he's moved, instead, laterally, leaving him an aging veteran of the one-night gigs in small venues. And in dealing with the stresses of this lifestyle, he has turned to alcohol as a form of escapism, but becomes increasingly reliant on it, thereby, exacerberating the obstacles of achieving personal fulfillment. Though he's been sober for about three months, he has suicidal tendencies.
| | |
| --- | --- |
| Ron Hunter (left) and Steve Monarque | Back in New Jersey he looks up his former employer, a hard-working middle-aged bar owner named Boss, who takes him in temporarily. John quickly meets up with an old bandmate, Spunk, a happy-go-lucky guy who's overly joyous to see his friend return to pick up where their band Buck Stud Stallion left off. But Spunk breaks some bad news about John's high-school sweetheart, Brenda. She's married to his enemy, Smitty. Very soon, John reunites with Brenda but their emotional meeting is cut short when the jealous hubby shows up with his goons, demanding answers for John's return. John resumes the path of self-destruction but is saved by a Guardian Angel, a crooner, who appears before him and becomes instrumental in helping John gain the confidence to give himself a second chance at life. |
Under the direction of Francis von Zerneck, Steve Monarque delivers a strong and moving performance as "John Buck", the troubled musician in search of redemption. Playing a disillusioned man in dire need of guidance, Steve is especially good at displaying John's range of emotions which often oscillate between sadness and anger, hence, reinforcing the sombre atmosphere. Steve is supported by an amazingly dynamic and dedicated cast, including veteran stage actor Ronald Hunter as "Boss" and Michael Wyle as the free-spirited "Spunk". Together, they provide some comedy relief and entertain us with some of the most memorable scenes.
Aside from being cast in the lead role, Steve Monarque is also the playwright, composer and lyricist. A passionate musician with a wonderful singing voice, his brilliant guitar solos and touching lyrics bring out the best in his work and are definitely the evening's highlights. The stage is arranged in a sort of semi-circle shape, and with seating for a mid-sized audience of 99, the audience can enjoy the full effects of sound and maximum viewing, producing a intimate and interactive feel in this riveting tale of friendship, love, and rivalry.
"That's Life" currently runs at The Egyptian Arena in Hollywood, CA until March 30, 2002. Showtimes are Fridays and Saturdays at 8 pm and Sundays at 7 pm. with an added performance on Thursday, March 28 at 8 pm. Tickets are $15. For reservations and information, please call (818) 345-0988.
CAST:
Steve Monarque - John Buck
Eddie Lynch - Crooner
Ronald Hunter - Boss
Michael Wyle - Spunk
Jennifer Leach - Brenda
Silas Weir Mitchell - Smitty
Rob Terrell - Charlie
Joe Avalon - Reese
Michael McGill - Donny
Jenny Campmany - Angel
Amia Dane - Angel
Kyra Groves - Angel

PRODUCTION:
DIRECTOR - Francis von Zerneck
PRODUCERS - Thomas Kelly & Silas Weir Mitchell
CASTING - Susan Glicksman
LIGHTING DESIGN - Parker Young
STAGE MANAGER - Alex Jacobson
SET DESIGN - Bill Bransky
ASSISTANT DIRECTOR - Moe Jalali
GRAPHIC DESIGN - Michelle Caplan
COSTUME DESIGN - Kelly Parrotto
PUBLIC RELATIONS - Philip Sokoloff

MUSIC AND LYRICS WRITTEN by Steve Monarque
PRODUCED AND ARRANGED by Talon Music